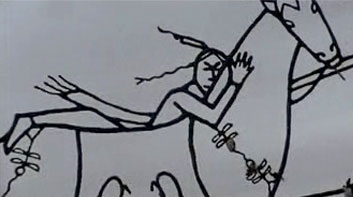 Awards & Press
SACRED GROUND WINS A GRAMMY!
The companion album to Homeland, Sacred Ground: A Tribute to Mother Earth won the 2005 Grammy for Best Native American Album. Including some of the most renowned Native American artists working today, Sacred Ground has been called "The coolest contemporary Native music to come out in years."
HOMELAND AWARDS
Audience Award for Best Documentary
Santa Barbara International Film Festival
February 2005
Social Justice Award
Santa Barbara International Film Festival
February 2005
Indian Summer Film & Video Image Award of Excellence for Documentary Feature
August, 2005
EarthVision Environmental Activism and Social Justice Award
August 2005.
Grand Teton Award (Best of Festival)
Jackson Hole Wildlife Film Festival
September 2005
Best Environmental Film
Jackson Hole Wildlife Film Festival
September 2005
Nominee
International Documentary Association Pare Lorentz Award
September 2005
Chris Award (Highest Rating)
Columbus International Film and Video Festival
September 2005
Grand Festival Award of Excellence
Berkeley Video & Film Festival
October 2005
Cine Golden Eagle Award
December 2005
Spirit of Activism Award
Wild & Scenic Film Festival
January 2006
Best Native American Voices Award (Documentary)
Fargo Film Festival
February 2006
CRITICAL ACCLAIM
"Homeland is a poignant and powerful portrait of how corporate power and government complicity are ruining our precious land,air, water. It is a troubling film, but also inspiring, because it shows Indians, who are the best guardians of the natural environment, fighting back against great odds, and refusing to give up."
-- Howard Zinn, "A People's History of the United States"
"Homeland is a moving portrait of Native American communities struggling to preserve their cultural dignity and environmental stewardship in the face of ongoing governmental and corporate oppression."
-- Julian Wise, The Martha's Vineyard Times
"Elegant... finds and celebrates the vibrant spiritual bonds that unite its central characters... Astonishingly good cinematography."
-- David Templeton, The Bohemian.
"Homeland... represents the very best in documentaries being produced in the US today."
-- Berkeley Video & Film Festival
"A compelling, in-depth look at the environmental pressures that Native American reservations across the country are currently facing."
-- Jenny Shank, New West Magazine
"Powerful. Wrenching. Our [Best of Festival] decision was unanimous."
-- Alan Root, Jackson Hole Wildlife Film Festival
"Powerful and moving. A must-see for students of environmental justice and grassroots activism."
-- Stefanie Wickstrom, Ph.D., Green Mountain College
"Important to all Americans who care about the state of the land, water, and air that we all depend on for survival. Watch, learn, and enjoy!"
-- Faye Hadley, University of Tulsa College of Law
"An account of human rights and environmental violations that should enrage all Americans."
-- Amity Doolittle, PhD, Yale School of Forestry and Environmental Studies
"Captivating and beautifully filmed. A positive call to action."
-- Alexis Karolides, Rocky Mountain Institute
PRESS
Federal EPA Recognizes Land as "Navajo Country"; Major Victory Against Uranium Mining
Download "The Navajo Nation" (PDF)
February 8, 2007
Sacred Ground - A Tribute To Mother Earth: Soars Into Grammy Week After Carnegie Hall Performance By Featured Artist Joanne Shenandoah
Top-40-Charts.com
February 7, 2006
Getting Evon: Evon Peter, director of Native Movement, answers Grist's questions
Grist.org
February 6, 2006
Standing Room Only at Wild & Scenic Environmental Film Festival
YubaNet.com
January 19, 2006
Clif Bar founder produces Grammy nomination
San Francisco Business Times
December 15, 2005
Beautifully crafted docu "Homeland" focuses on activists in four far-flung NativeAmerican reservations and their David-and-Goliath struggles to preserve their lands...
Variety(review) online November 14, 2005,
in print December 5-11, 2005.
Documentary Explores Environmental Threats to Native American Lands
By Jenny Shank
New West
November 8, 2005
Streams of White Light into Darkened Corners: the Mill Valley Film Festival shines a spotlight on the extraordinary true stories of unknown and marginalized human beings.
By David Templeton
The Bohemian
October 5, 2005
Mill Valley Film Festival Guide
October 1, 2005
Vancouver International Film Festival Guide
October 1, 2005
Vancouver Fest Launches New Film Centre
September 7, 2005
"Homeland: Four Portraits of Native Action" (Review)
Tulsa College of Law Library News
August 30, 2005
"Film: Navajos Battle Mining"
Santa Fe New Mexican
August 19, 2005
"Film to explore history of Native Americans"
Bangor Daily News
July 22, 2005
"Economic pressures shape tribal environmental fights"
By Ray Routhier
Portland Press Herald