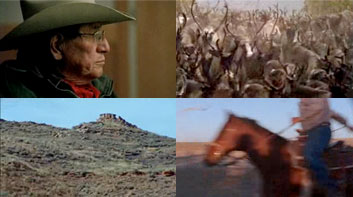 Learn More
Four Portraits of Native Action
Find out more about the issues raised in Homeland: Four Portraits of Native Action:
Native Action
Native Action PO Box 409 Lame Deer, MT
406/477-6390 (phone)
406/477-6421 (fax)
Founded by Gail Small, Native Action was one of the first Native American not-for profit organizations on a reservation. It is dedicated to Native environmental protection, educational equality, and political reform.
Eastern Navajo Dineh Against Uranium Mining (Endaum)
Founded by Rita & Mitchell Capitan, this organization has been key to the fight to keep uranium mining off of the Navajo Reservation.
Penobscot Nation Department of Natural Resources
The Penobscot Nation Department of Natural Resources works to forward our people's goal of protecting the natural resources given to us by the creator for living, sustenance, and the spirit.

The Gwich'in formed this group as a political arm to campaign against opening up ANWR to oil drilling.
General Information
Indigenous Environmental Network
Native peoples of the Americas organization for education, coalition building, and action.
Honor the Earth Organization
Founded by Winona LaDuke.
Native Movement
Founded by Enei Begaye and Evon Peter.
Oil Drilling in the Arctic National Wildlife Refuge
Arctic Action Hotline 1-888-8-WILDAK (1-888-894-5325)
The Arctic Action Hotline is a free, nationwide action hotline that gives activists an easy way to voice their support for the Arctic National Wildlife Refuge by directly connecting them with their Congressional offices. Incoming calls are greeted with a brief introduction providing information about the upcoming Congressional fight. The caller is prompted to enter their zip code and is then directly connected to their Senator or Representative's office with a message to either thank their Member or urge their Member to help in the fight for the Arctic Refuge.
Uranium Mining
Southwest Research & Information Center
This is a non-native organization that has partnered with ENDAUM in bringing the lawsuits against the Nuclear Regulatory Commission to stop Hydro Resources Inc. from opening up uranium mines.
Dioxin and Other River Pollution