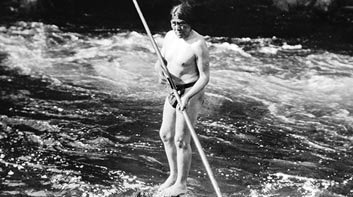 Production Team
Production Team
Chris Eyre – Director
Brian Wescott – Producer/Writer
Roberta Grossman – Producer
Lisa Thomas – Executive Producer
Deann Borshay Liem – Executive Producer
Sophie Sartain – Writer
Chris Callister – Editor
Dyanna Taylor – Director of Photography
CHRIS EYRE
Director: Chris Eyre (born 1968), an enrolled member of the Cheyenne and Arapaho Tribes, is a nationally-recognized film and television director and producer, who has received many awards, including both a Peabody and an Emmy. Eyre directed the highly acclaimed Smoke Signals (1998), which won a coveted Sundance Audience Award and the Sundance Filmmakers Trophy. Eyre is a graduate from New York University's film school whose initial passion for still photography carried him through becoming "the preeminent Native American filmmaker of his time" (People Magazine). Eyre's films focus on contemporary Native American life, with a rejection of conventional stereotypes.
BRIAN WESCOTT
Producer: Brían Wescott (Athabascan/Yup'ik) is an Alaska Native producer, writer, and actor. In addition to producing "Ishi's Return" he Executive Produced the documentary "The Thick Dark Fog", "Best Documentary" winner at the 2011 American Indian Film Festival, and co-produced the first Native American comedy feature film "Christmas in the Clouds." He was born and raised in Alaska and divides his time between there and Los Angeles.
Producer/Director: Roberta Grossman was the Series Producer and Co-Writer of 500 Nations, an eight- hour documentary series on the history of Native Americans. Her film Homeland: Four Portraits of Native Action premiered in February 2005, screened on PBS, and screened and won awards at film festivals worldwide. Other credits include Blessed Is the Match: The Life and Death of Hannah Senesh, which aired on Independent Lens and was short-listed for an Oscar, Hava Nagila: (The Movie) and Dorothea Lange: Grab A Hunk of Lightning which Grossman produced for PBS/American Masters.
Executive Producer: Deann Borshay Liem is an Emmy Award-winning documentarian internationally known for her landmark adoption trilogy, First Person Plural (2000), In the Matter of Cha Jung Hee (2010), and the forthcoming Geographies of Kinship: The Korean Adoption Story, which she produced, directed, and wrote. She served as executive producer for Spencer Nakasako's Kelly Loves Tony and AKA Don Bonus, Francine Cavanaugh and Adams Wood's On Coal River, Ben Wang's Breathin' The Eddy Zheng Story and has consulted on numerous films including Sophie Sartain's Mimi and Dona and Tiffany Hsiung's The Apology. Her most recent film, Memory of Forgotten War (directed with Ramsay Liem), was broadcast on PBS stations nationally in May 2015.
Executive Producer: Lisa Thomas is an innovative entrepreneur, activist, philanthropist, film producer and Grammy Award-winning music producer. She is best known as the cofounder and former CEO of Clif Bar, Inc. where she managed a thriving company and developed a corporate culture that emphasized social and personal responsibility. Thomas executive produced the feature documentary Homeland: Four Portraits of Native Action, Blessed Is the Match, Hava Nagila – The Movie, and Grab A Hunk of Lightning: Dorothea Lange. She also produced Sacred Ground, a companion album to Homeland that won the 2005 Grammy Award for Best Native American Album.
Writer: Sophie Sartain's credits include the 2015 documentary Mimi and Dona (director/producer/writer), broadcast on PBS Independent Lens; the 2014 documentary Above and Beyond (writer), winner of the audience award at more than 20 film festivals; the 2012 documentary Hava Nagila (The Movie) (writer/producer), the opening or closing night film at more than 40 film festivals; and the Emmy-nominated 2008 film Blessed Is the Match: The Life and Death of Hannah Senesh (writer/co-producer).  She has contributed as a writer and story consultant on several documentary projects, including Rock in the Red Zone (2015) and In the Matter of Cha Jung Hee (2010, PBS). 
CHRIS CALLISTER
Editor: Chris Callister received his master's degree in film production from USC. He has directed and edited documentaries, short films, and music videos, and his work has been seen around the world by millions of​ people. His credits include the feature documentary Above and Beyond (editor); the documentary Mimi and Dona (editor); the feature ​documentary Hava Nagila (The Movie) (editor); and music and concert videos for The Killers (writer, director, editor).
​
DYANNA TAYLOR
Cinematographer: Dyanna Taylor is an Emmy award winning Cinematographer/Director of Photography whose prominent career in features and documentaries has also earned her a Peabody Award and the Muse Lifetime Achievement Award for Outstanding Vision and Achievement in Cinematography from New York Women in Film and Television. She has traveled the world lensing documentaries and television specials on social issues and environmental/wildlife concerns, working for all of the major network and cable outlets including HBO, PBS, ABC, NBC, CBS and Discovery. Her film Dorothea Lange: Grab A Hunk of Lightning aired on American Masters in 2014.