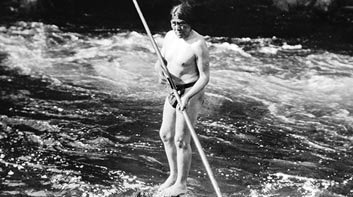 The Story
The Story
In 1911 in Oroville, CA, the "last wild Indian" wandered in from the wilderness to join modern civilization. Dubbed "Ishi," he became an anthropologist's prized specimen and a museum sensation. To mainstream white culture, Ishi represented a vanishing race, the closing of the frontier and the fulfillment of Manifest Destiny.
When Ishi died, his brain was removed and sent to the Smithsonian Institution in Washington, DC. Eighty years later, his descendants in California fight to have his remains repatriated to his ancestral home. ISHI'S RETURN, a half-hour film from Native filmmakers Chris Eyre (Cheyenne/Arapaho) and Brian Wescott (Athabascan/Yup'ik) and producer Roberta Grossman (500 Nations, Homeland), chronicles Ishi's story, as well as the story of his descendants, to present a portrait of survival and resilience in the face of overwhelming adversity.
Featuring interviews with Native activists Art Angle (California Maidu) and Floyd Buckskin (Ajumawi Hesugawi), and scholars Phil Deloria (Dakota) and Rayna Green (Cherokee), ISHI'S RETURN transports viewers to the beginning of the 20th century, a low point for Native Americans, particularly in California, where rapacious white settlers in the Gold Rush nearly wiped out the Native population. The film explores a time when mainstream culture developed the myth of the vanishing Indian: "The idea was that Indians were not being conquered, but they were vanishing of their own accord," says Deloria, Professor of History at the University of Michigan. "It's not that people killed them. It's that they just kind of headed westward and that if you were a settler you weren't displacing Indians. You were finding their still warm campfires and the rustle of leaves as they kind of flitted off stage."
ISHI'S RETURN also examines the field of anthropology, which came into existence in the United States around the study of Native Americans. In particular, the film spotlights the complex relationship between Ishi and Alfred Kroeber, the anthropologist who took Ishi under his wing when he lived at a San Francisco Bay Area museum. "Ishi was the ultimate anthropological prize, a total complete coup for Kroeber," says Green, Curator Emeritus of the National Museum of American History.
"It's very easy to look at it and say, 'Oh, it was a friendship. He was so nice to Ishi,'" says Deloria. "It's also easy to say, 'He treated Ishi like a specimen. It was a terrible and egregious thing,' and what becomes clear is that relationship was complicated."
Nowhere were those complexities more apparent than in the treatment of Ishi after his death. Against Kroeber's express instructions, Ishi's brain was removed and sent to the Smithsonian Institution, where the remains of thousands of Native Americans were stored for research purposes. Yet, with the passage in 1990 of the Native American Graves Protection and Repatriation Act, Indian people – including the California descendants of Ishi – began reclaiming the remains and cultural artifacts of their ancestors.
"My grandmother would tell me stories about Ishi," says Art Angle. "That story is one of the main reasons why we pursued the repatriation of Ishi."
"We bring home people from Iraq, Afghanistan, Vietnam, any places that they may have been," says Floyd Buckskin. "Those families want to know. They want to be able to have that chapter of their life closed. Ishi was no different."
As Ishi's descendants bring him home after more than eighty years, ISHI'S RETURN ends on a note of triumph. Contrary to the master narrative that Indians would die off, the film shows how Native Americans managed to survive the darkest period of their history and reclaim parts of a fractured past. As Rayna Green states, "Ishi found a place back home with his people, who were not gone, not disappeared, but only waiting. It really signals a moment when that respect can be restored and when it's not about the goods. It's not about the gold. It's about the restoration of a people's history that is absolutely still alive, dancing and breathing in a place not about death, not about vanishing, but about something else. And that is a future."