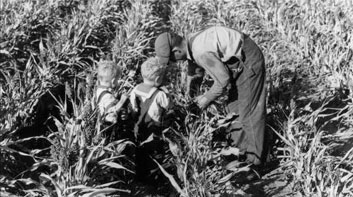 The Story
The Story
"There are moments when time stands still and all you do is hold your breath and hope it will wait for you."
– Dorothea Lange
On a March afternoon in 1936, a steady rain fell on the desolate fields and eucalyptus groves near the California town of Nipomo. Dorothea Lange drove north on a two-lane highway that would take her home, seven hours away in Berkeley. Lange had spent the past month photographing migrant workers for the Farm Security Administration. And now she was done. Her eyes glued to the slick road, leather camera bag by her side, Lange passed a sign reading "Pea-Pickers Camp." As she later recalled, "I didn't want to stop and didn't. Then, accompanied by the rhythmic hum of the windshield wipers, arose an inner argument: 'Dorothea, how about that camp back there? Are you going back? Haven't you plenty of negatives already on this subject? Besides, if you take a camera out in this rain…'"
After twenty miles, Lange turned around. She parked her car at the soggy camp, and pulled out her camera. She spotted a mother, Florence Thompson, with children huddled around her under a shed. Lange took six exposures.
The next morning, Lange developed the negatives and took five shots to the San Francisco News. Published immediately, the photographs set off shockwaves nationwide. The federal government rushed 20,000 pounds of food to the hungry migrants in California. Meanwhile, Lange still had one image that had not yet been seen. Six months later, Migrant Mother was published in the progressive journal Survey Graphic. The photograph would become a defining image of the Great Depression. Said University of Texas professor David Oshinsky in a recent New York Times piece, "[Thompson's] manner is strong and protective, yet her face shows the worry of someone overpowered by events beyond her control. Gazing into space, she represents the spirit of America itself in the midst of history's worst economic disaster – the mix of courage and compassion that will lead a proud, invincible nation to endure."
While Migrant Mother came to define an era in American history, the lone image doesn't come near to defining the significance of Dorothea Lange. Her work as a documentary photographer spanned four decades – from the 1920s into the 1960s. In those decades America endured the poverty of the Depression and witnessed mass migrations to the West. Lange's camera bore witness to the internment of Japanese Americans during World War II and the epic growth and change of America as the country moved from a primarily rural culture to a postwar urban society. Lange's images influenced writers, artists and filmmakers and helped shape public policy. Ultimately, they challenged Americans to see in a new way.
"Lange's photographs enlarged the popular understanding of who Americans were, providing a more democratic visual representation of the nation. Lange's America included Mormons, Jews, and evangelicals; farmers, sharecroppers, and migrant farm-workers; workers domestic and industrial, male and female; citizens and immigrants not only black and white but also Mexican, Filipino, Chinese and Japanese." – Linda Gordon, Lange Biographer
Despite her importance in American history, Lange's story remains largely unknown today. Even as her Depression-era photographs frequent websites and periodicals during our current "Great Recession," the details of her life have yet to be explored in a major feature documentary. Dorothea Lange: Grab a Hunk of Lightning is a film intended to change that. It will present, for the first time on film, a comprehensive view of Lange's life, work and mark on history. Weaving in Lange's own voice and those of family members, colleagues and scholars, the film will give audiences both an intimate look at Lange's life, as well as a scholarly interpretation of her work and the times in which she lived.
Directing and narrating Grab a Hunk of Lightning is Lange granddaughter, Dyanna Taylor, an award-winning filmmaker and Emmy Award-winning cinematographer. Featured in the segment on Migrant Mother in the NEH initiative Picturing America, Taylor is perfectly positioned to tell Lange's story in a manner that is both intimate and definitive. She will bring access to never-before-seen material: archival footage of Lange, audio-taped interviews of Lange and her second husband Paul Taylor, sketches by Lange's first husband Maynard Dixon, Dorothea's letters and journals, and family interviews.